This proposed East Lothian flag was conceived by Philip Tibbetts in consultation with local resident Mark Cervi. The design incorporates the maroon and golden sun flag
which Philip had earlier proposed as a flag to cover all three Lothian counties as a region. The proposal combines this with a saltire, as found in the Scottish national flag
– a pattern seen as a particularly apt basis for the proposed flag because legend holds that the Scottish saltire originated at the Battle of Athelstaneford, in the county.
The saltire is ermine, as found in the arms first awarded to East Lothian County Council in 1927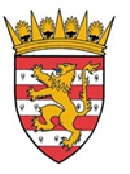 which had included a red and ermine field, as found in the arms used by the Giffords of Yester
, a family granted lands in East Lothian by King William the Lion (1165-1214).
The ermine bands of the Giffords of Yester and subsequently the county council, thus appear in the form of a saltire
to recall the local origin of the Scottish flag and provide a pattern that is distinct and unusual.
The ermine saltire     
and the blazing golden sun
are laid against the background maroon colour
that is common in the region, to produce a vivid, locally meaningful and distinct combination,
quite unlike anything found on any other British county flag.
The proposed use of a common charge, the blazing sun, on the flags of all three constituent parts of Lothian, mirrors the deployment of the Yorkshire rose which appears on the county's flag as well as on all three riding flags, north, west and east.
Useful Links